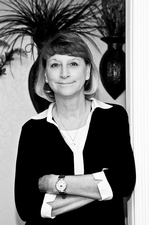 RE/MAX Crossroads Agent
Quite a combination: experience + personal care!
One of the most experienced REALTORS in North Texas, Patti Farr specializes in Grayson and Fannin counties. Patti says, "Because of my knowledge of local real estate and lake properties and my additional expertise in foreclosed properties, I can combine my personal capabilities with the wider national RE/MAX exposure for my listings for the best possible marketing." 
Her knowledge of the North Texas area makes her a perfect agent for buyers who want to explore all their choices before making a decision. She wants her clients to have the best professional guidance!
Patti believes her clients deserve the benefits of working with an agent affiliated with an internationally known and respected brokerage with a reputation for its high standards of professionalism and production. In her over 30 years of experience Patti has demonstrated a level of personal commitment to every client that is special and unique. Client concerns become Patti's concerns, and she delivers the kind of warm, personal service that results in loyal clients who use her services again and again.  
Whether you want to sell your current property or purchase another, Patti will be your guide through the process. She can cut through today's information overload and help you meet the challenges of the North Texas market with her experience and personal touch.  You can rely on Patti to provide the services you deserve.
Please contact her today to begin this rewarding process together.